Rima Fujita      Michela Martello
September 5 – October 16, 2014
Opening Reception:  Friday, Sep 5, 2014   6-8pm
"The process that leads to an experience of harmony or happiness usually involves opposite aspects. The artistic path has many constructive-destructive elements, which create a certain "weight."   Personally I feel this weight is a treasure that forges a body of creativity, inspiration and honest spiritual labor." — Michela Martello
"Happiness has a weight. If the amount of happiness is heavy, it is joyful; if the amount of struggle to achieve happiness is heavy, it is dreadful. For me happiness does not come easily, although it can be so available and light, and happiness relies upon my conscious choice each moment, which comes from my daily struggle with spiritual practice and creativity."    — Rima Fujita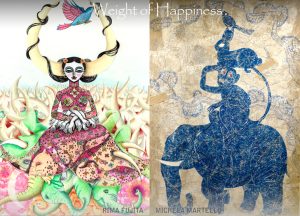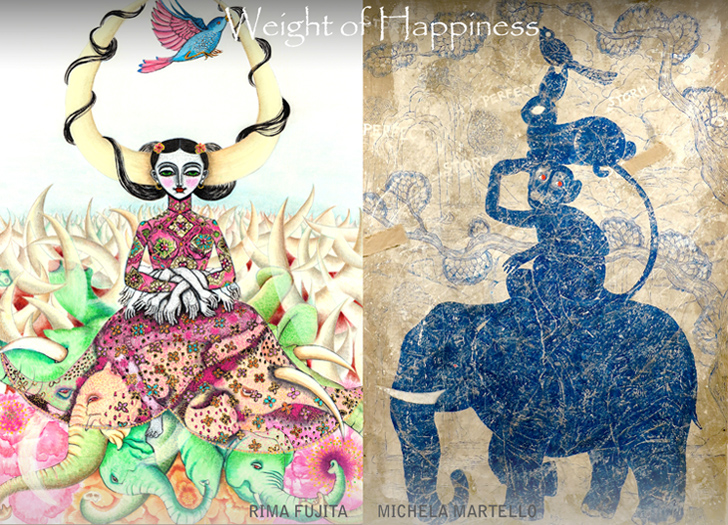 Weight of Happiness, is a two-artist exhibition featuring artworks variously inspired by Buddhism, folklore, dreams, the artists' cultural heritage (Italy and  Japan), symbolism and spirituality as interpreted by Ms. Rima Fujita and Ms. Michela Martello.  This will be the second showing of Ms. Fujita's works at Tibet House US and the first collaboration between the two artists.
---
Italian-born Michela Martello has worked as a children's book illustrator, publishing over 30 books while dividing her time between England and Italy. In 1998 she moved permanently to New York where she started her research as a painter at Arturo di Modica studio.  She was selected by the American Association of University Women in the "Emerging Women Artists juried exhibition" (2006) at New York Design Center.  In 2007 – 2008 Jim Kempner Fine Arts and Ok Harris Gallery selected her for the " NYU Small Work" group show.  In 2014 she was selected for the group show "Understanding Media the Extension of Human Being" at Call for Bushwick, NY and that same year she was invited by Trace Foundation to be part of the group show "Transcending Tibet".
Her artwork has been collected and commissioned by both public and private clients. Michela has collaborated with Bonelli Arte Contemporanea (Italy), Tria Gallery (Chelsea NY), and Rarity Gallery Mikonos (Greece).
Rima Fujita, a Tokyo-born and New York-raised artist graduated from Parsons School of Design and has exhibited internationally to much acclaim. She is committed to philanthropic work through her "Books for Children," organization which has created four children's books and donated more than 12,000 books to the Tibetan refugee children in exile. Rima is honored that H.H.The Dalai Lama wrote Forewords to her books.??Rima has presented her works at a number of galleries including Tagore Gallery (NYC and Beverly Hills), Rubin Museum of Art (NYC), Trace Foundation (NYC), San Diego Museum of Art, Mingei Museum of Art, Isetan Art Gallery (Tokyo), and Bunkamura Gallery (Tokyo).