Tibet – Looking Back by Jaroslav Poncar
January 15 – March 2, 2016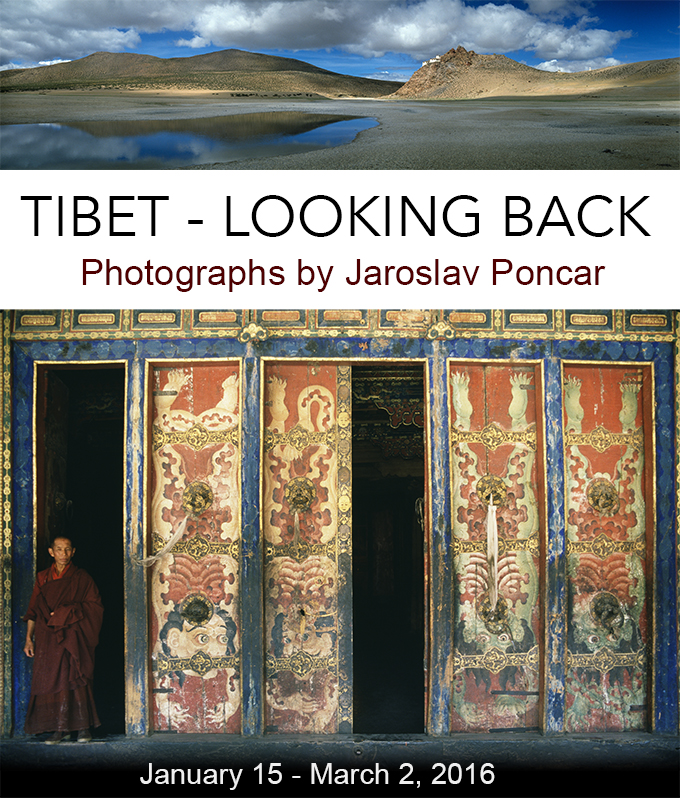 Jaroslav Poncar's photographs of Tibet were taken over four extensive journeys more than twenty years ago.  On his journey to Tibet in 1985, he travelled overland from Chengdu to Lhasa, and further to the former kingdom Guge in the extreme West, experiencing the country as it looked ages ago.  In 1985, a German travel agency obtained an authorization to organize the first journey to the sacred Mount Kailash in West Tibet.  The camera manufacturer Olympus sponsored Poncar's trip.
In 1987, Poncar organized an expedition to the Kailash-Manasarovar region to explore the source area of the Brahmaputra and Indus. He and his film team visited the source of the Indus 80 years after geographer and explorer Sven Hedin. Poncar was invited by the University of Vienna to photographically document what was left of Tholing in 1993 as part of a research project.  This was his last visit to Tibet. He travelled three times from Lhasa to Guge, twice across Chang Tang via Gertse on the North Route. On all his journeys to the Himalayas and Tibet since 1976,  Poncar traveled with two antique Russian panoramic cameras FT-2.
Jaroslav Poncar was born in Prague in 1945. He now lives in Cologne, where he was professor at the Department of Imaging Sciences at the University of the Applied Sciences until his retirement in 2010. His numerous photography-motivated travels and university projects have taken him to the Himalayas and Tibet, Central Asia, India and Cambodia.  In 1985, he was the first Westerner to cross Tibet from East to West..