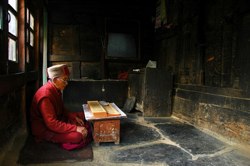 Photographs by Tenzin Paljor
November 19, 2009 – February 3, 2010
In 2007, following the receipt of a prestigious grant from the Rowell Fund for Tibet, Tenzing Paljor initiated the Vanishing Himalaya Project and traveled through the Himalaya photo documenting culture, tradition and cultural heritage, a journey he describes as a "pilgrimage". The Tibetan word for pilgrimage is neykhor, and it means "to circumnavigate around the sacred places." The intention is less to reach an ultimate destination, but rather to transcend one's mind through inspired travel.
This exhibit serves as a symbolic journey of an exiled Tibetan and conveys through photographs a celebration of the many facets of life in the Himalaya that are uniquely Tibetan. At the same time this project seeks to photo-document and archive Himalayan and Tibetan cultural heritage at a time of acute change and potentially radical transformation.
The Vanishing Himalaya project is supported by The Rowell Fund for Tibet.