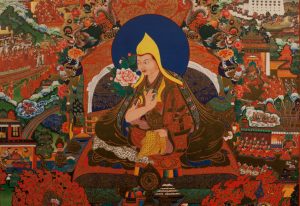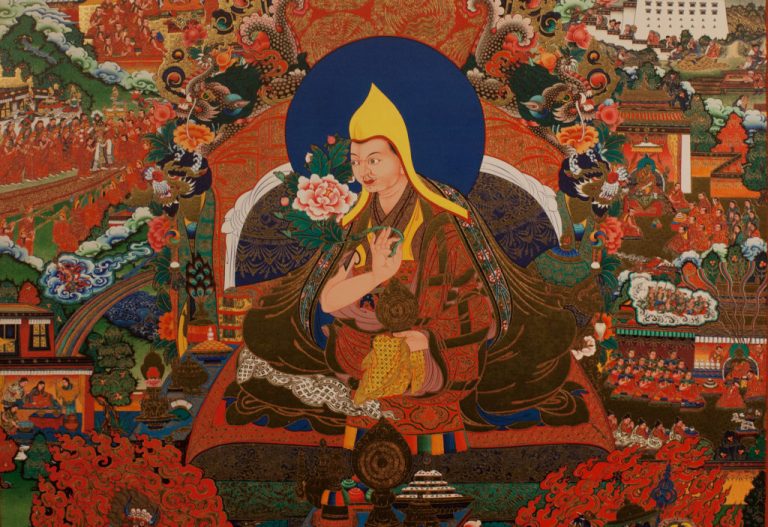 OPENING RECEPTION: Thursday, January 11, 2018, 6-8pm
ON VIEW: January 11-March 1, 2018
This exhibit features a unique series of print works depicting the lineage of the Dalai Lamas. According to Tibetan Buddhism, each Dalai Lama is the reincarnation of his predecessors who are the manifestations of Avalokiteshvara, or Chenrezig, the patron saint of Tibet and Bodhisattva of Compassion. Starting with Pema Dorje (1391–1474), the disciple of Tsongkhapa and founder of the Gelugpa school, also known as Gendun Drup, the institution of the Dalai Lamas has played an important role in the development and evolution of Tibet.
Pema Dorje was only known as the First Dalai Lama only from 104 years after he passed away as the title 'Dalai Lama' was created by Altan Khan, a Mongolian king and descendant of Khublai Khan, in 1578. Dalai, a Mongolic word meaning "ocean", is translated as Gyatso in Tibetan, and the Tibetan word bla-ma བླ་མ་ translates to master, or guru.
The works on display depict the central figure of each Dalai Lama surrounded by the events in his life. Three of the works illustrate the life of His Holiness the fourteenth Dalai Lama. Temba Chophel of the Norbulingka Institute presented the idea for creating this series to His Holiness in 2002. Each work was carefully researched for content, and Temba Chophel then consulted with notable lamas and scholars including Chato Rinpoche and the Abbot of Namgyal Monastery to ensure the accuracy and details of each thangka. Temba Chophel passed away in 2007. His main disciple, Tenzin Norbu, and his team completed the series of paintings that these prints are replicas of. Only 400 of these limited edition prints were created by the Italian firm Progetto Leonardo, which has also produced limited reproductions of artworks exhibited in the Vatican Museums.