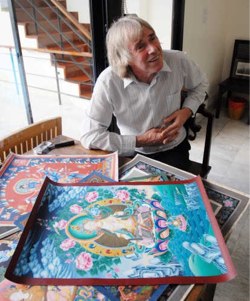 Collection of Robert Beer
November 19, 2009 – February 3, 2010
From collector to artist & back again: Reviving the tradition of Tibetan Buddhist iconography one thankga at a time. Selections from the collection of Robert Beer on display through February 3rd, 2010.
This exhibition will feature many new paintings made by the finest Newar and Tamang artists of Nepal over the last six years, revealing how this contemporary renaissance of modern tantric art has continued to flourish amidst the chaos of the Kathmandu Valley.
The Newars are the original inhabitants of this once fertile valley, with their own ancient culture, traditions and language, and they were responsible for much of the painting, woodcarving and bronze casting that we now define as 'Early Tibetan Art'.
Robert Beer has studied and practiced Tibetan Buddhist Art for nearly 40 years, and over the last 12 years has been working closely with many of the Newar artists, both as teacher and collector. The predominant images in this exhibition will display many of the little known and often obscure tantric goddesses that populate the Kathmandu Valley, but will also feature Tibetan thangkas from several of the senior and most highly trained Tamang artists of Nepal.