Transforming Minds: Kyabje Gelek Rimpoche and Friends
Photographs by Allen Ginsberg 1989–1997
Exhibition Celebrates Rimpoche and Allen Ginsberg's Relationship Through the Lens of Ginsberg's Camera
On View: September 21, 2021 through December 12, 2021
At Tibet House Gallery, New York City
A Partnership Between Tibet House US, The Allen Ginsberg Estate & Jewel Heart
Curated by Peter Hale and Ben Paljor Chatag
Tuesday, September 21, and thereafter Wednesday – Sunday, 11am – 1pm, 2 – 4pm.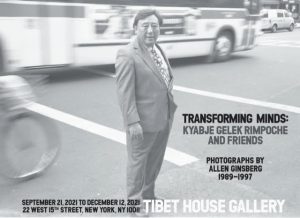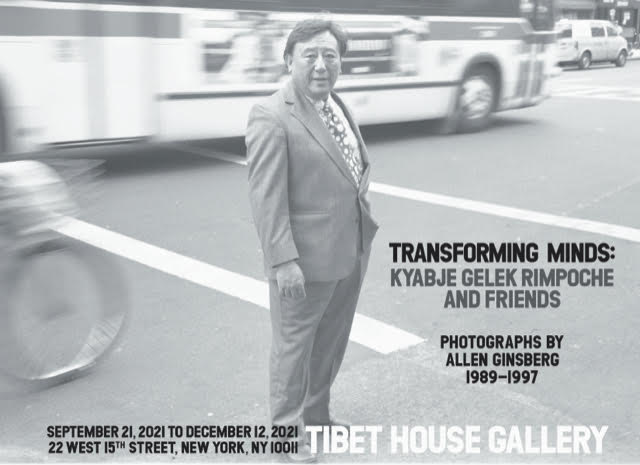 Tibet House US Gallery is delighted to partner with The Allen Ginsberg Estate and Jewel Heart International this fall on an exhibition of unique images by celebrated visionary poet Allen Ginsberg.
Allen Ginsberg (1926-1997), best known as one of the most influential poets of the 20th Century, is also recognized for his photography, intimately capturing friendships from the birth of the Beat Generation through the counter-cultural, cultural, and literary circles he helped inspire. Allen's lifelong spiritual quest, beginning early on with visionary experiences involving 19th century English mystic & poet William Blake, ultimately evolved into a deep commitment to and practice of Tibetan Buddhism in the final decades of his life.
This extraordinary selection of images focuses on Allen's Tibetan Buddhist teacher and friend, the renowned Tibetan Buddhist master, Kyabje Gelek Rimpoche (1938-2017), and his friends and students.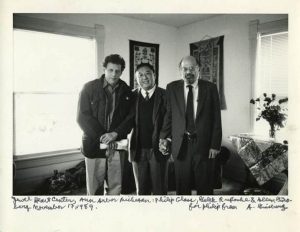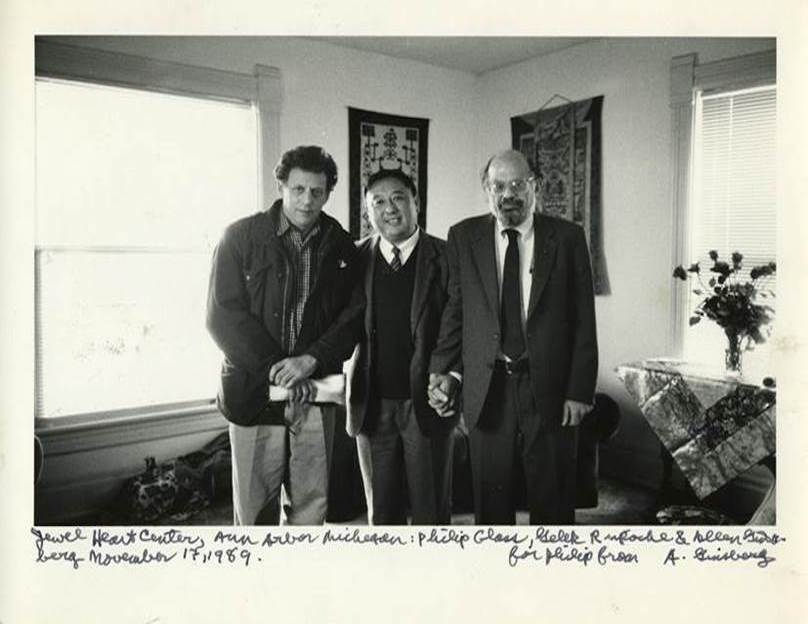 In 1989, Allen's close friend, Philip Glass, a student of Rimpoche, brought Allen to Michigan to perform a benefit concert for Jewel Heart. Allen recalls their fortuitous meeting:
" . . . Philip & I had come out to visit and perform Jewel Heart benefit. H.E. Gelek Rimpoche, once abbot of Gyuto Monastery in Lhasa, had learned Oxovian-accented English with my own root teacher Chögyam Trungpa Rinpoche, his old friend, so we all fell in love." 
From that first meeting until Allen's death in 1997, Rimpoche and Allen formed an indissoluble bond. Transforming Minds celebrates Rimpoche and Allen's relationship and those times through the lens of Allen's camera.
The exhibition is a partnership between Tibet House U.S., The Allen Ginsberg Estate and Jewel Heart, and was curated by Peter Hale and Ben Paljor Chatag.
COVID-19 protocol will be observed and updated as the situation evolves. Please check the website for updates, online and hybrid programs, and new hours.
ABOUT TIBET HOUSE US
Tibet House US is a non-profit educational institution and cultural embassy founded in 1987 at the request of His Holiness the Dalai Lama working to promote and preserve Tibet's unique cultural and spiritual heritage. Tibet House US serves to expose and share this unique civilization through innovative educational and cultural programs and events for the general public, providing inspiration for others to join the effort to protect these treasured arts, sciences, and ways of living.
NEW GALLERY HOURS
The new hours for the Gallery are 11 – 4pm, Wednesday through Sunday.  Timed tickets are required in order to view this show. The available time slots are for a duration of two hours. The available time slots are as follows: 11am – 1pm, and 2 – 4pm, limited to 25 people.
On view through December 12th, 2021