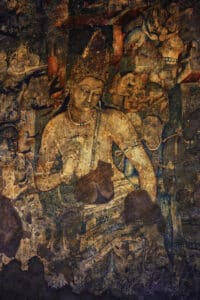 This Tibet House US journey to India focuses on the origins and development of Buddhism within the context of India's diverse cultural, spiritual, and artistic heritage, with special emphasis on the parallel evolution of Yoga and Tantra.
From Delhi, the one-time capital of the British Raj, we will travel to Varanasi, one of the world's oldest continually inhabited cities, renowned for its myriad shrines and temples lining the Ganges River as well as the Deer Park in nearby Sarnath, where the Buddha gave his first teaching in the fifth century BCE. From Varanasi, we will continue to Aurangabad, from where we will visit the cave temples of Ajanta and Ellora, which are described as the finest surviving examples of ancient Indian art and provide insight into Buddhism's rich artistic heritage. The journey will conclude in Jodhpur, in Rajasthan, coinciding with the Holi Festival, with special access to a historical collection of paintings and manuscripts that illuminate the origins, ethos, and development of Hatha Yoga within the context of Vajrayāna, or Tantric, Buddhism.
With additional contributions by a range of local experts, this latest installment of THUS' famous docent tours of Buddhist Asia with GeoEx will be led by Dr. Ian Baker, an acclaimed National Geographic Explorer and author of several books on the cultural, religious, and medical traditions of the Himalayas and Tibet. The trip will also include a practical introduction to a range of contemplative and yogic techniques for transforming human experience, including yogic practices devoted to attaining extreme longevity.