Co-organized by Korean Cultural Heritage Foundation
---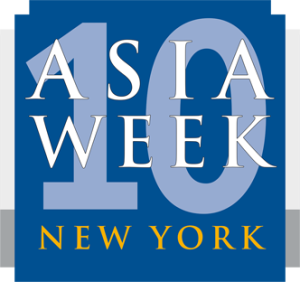 In the 10th century Buddhism emerged as a major cultural force throughout Asia, including the Tibetan Plateau and the Korean Peninsula. This exhibition celebrates contemporary expressions of the Korean art renaissance which peaked during the Goryeo Empire (918-1392). At this time calligraphic transcriptions of Buddhist sutras, called Sagyeong, were produced in gold and other precious metals.  Despite being a unique and exquisite art form, Sagyeong is primarily an act of devotion and spirituality. It is a meditative practice in and of itself. Iconographic painting similarly reached new heights of elegance in the Goryeo Period, featuring popular Mahayana deities associated with the development of the Hwaeon and Seon schools of Buddhism. The technique of using gold powder on a silk canvas with color applied to the back created great depth and gave unrivaled luminosity to the image. The Buddhist arts of Korea and Tibet were known throughout the region for their beauty and refinement. As Tibet's monastic centers  developed in this period into great centers of learning, it is also considered one of the most vibrant ages of artistic growth and cultural development in Buddhist Tibet. Master Kim Kyeong-Ho and Ms. Joy Rock are widely recognized artists whose reflections of the Goryeo period are juxtaposed with Tibetan works from the Tibet House US Repatriation collection.
[foogallery id="48303″]
---
Joy Rock
While working as a Western-style artist in 1999, Joy Rock was captivated by a Goryeo Empire painting of the Bodhvisattva Water-Moon Avalokiteśvara. She immersed herself in the world of Buddhist iconographic painting, starting with drawing approximately 2,000 ink sketches. Joy Rock is a self-taught artist who has mastered the technique of applying stone-based color and gold to her work.
Joy Rock's most representative exhibitions include a solo exhibition at Yongin University Museum in Korea (2005), a solo exhibition, "Revival of Goryeo Buddhist Paintings" in Los Angeles, U.S., (2015) and a solo exhibition, "Goryeo Buddhist Paintings: Mysterious and Splendid" in New York, U.S. (2017). She is particularly known for her paintings Water-Moon Avalokiteśvara, Fifteen Thousand Buddhas, and Amita Buddhas. It has been noted that her works bear a great resemblance to the original paintings created seven hundred years ago.
---
Kim Kyeong-Ho
Master artist Kim Kyeong-Ho is a pioneer and transmitter of the art of Saeyong, Korean Sutra Copying, and was appointed by the Korean Ministry of Employment and Labor as the sole Traditional Sutra Copying Skills Transmitter. His dedication to, and extensive research on Sutra copying is soon to be recorded in the modern Korean Sutra Copying history. He is both an accomplished artist and teacher of this unique art that had not been practiced for 600 years after the Joseon Dynasty. Master Kim also serves as the President Emeritus of the Korea Sutra Copying Research Association and Director of the Korean Institute of Traditional Sutra Copying.
Recently, he has devoted himself to the work of expansion, artistic exploration and creation of modern Sutra copying by incorporating various elements from the Bible, the Quran, mandalas, and tantras from the Indian and Tibetan traditions. Master Kim has had 19 solo and group exhibitions including the Los Angeles County Museum of Art (Los Angeles, U.S.) in 2010, Flushing Town Hall (New York, U.S.) in 2012, Korean Cultural Center (Los Angeles, U.S.) in 2014. Master Kim is the author of 20 books (3 co-authorship).