Saturdays, June–October 2022 (Summer break and holidays TBD)
1–3 PM | In-person at Tibet House US
$15 per class, limited capacity. To register, email tashi@thus.org and tkunsang@thus.org
During this ongoing course, Geshe Thupten Kunkhen will provide commentary on the topic of mind and awareness as discussed in the late Lati Rinpoche's book, Mind in Tibetan Buddhism (copies available at Tibet House US). He will explore the text's teachings of how inner peace can be attained by understanding the nature of the mind and the process of cognition, the different types of mind and mental factors, and how we develop knowledge and understanding.
As described in Mind in Tibetan Buddhism, "Buddhist practitioners in the great Tibetan monasteries of Drepung Loseling, Lhasa, seeking to purify their minds and develop the correct understanding necessary for final enlightenment, began their formal inquiry into mind and consciousness by studying 'The Presentation of Awareness and Knowledge'. This important text identifies the different types of minds and consciousnesses, their divisions and definitions. It presents the vocabulary connected with the mind and is a means of training the student in the process of reasoning – an endeavor integrally linked with all steps of the Gelugpa Geshe training."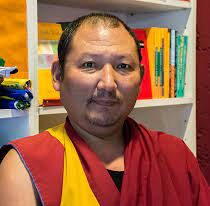 Geshe Thupten Kunkhen was born in 1968 at Shimla, HP, India. At the age of seven, he entered the Drepung Loseling Monastery in the Karnataka State of South India. He completed the Geshe Lharampa Doctorate Degree in Buddhist philosophy and the Ngagrampa Degree from Gyumey Tantric Monastery.