This family-friendly event will include a reading from "Leaf Talks Peace," discussion, brief mindfulness meditation session, and signing.
Saturday, July 30 | 12–1pm ET | Sliding scale donation (children are free-of-charge) | In-person at Tibet House US
Join award-winning children's book author Priya Kumari to celebrate the release of her children's book, Leaf Talks Peace, which includes a foreword by H. H. The Dalai Lama. This 1-hour program will include a story reading from the book, discussion about Buddha's message of harmony and importance of peace education, a brief mindfulness session for children, and book signing. Author-signed copies of the book will be available to purchase at the event.
Leaf Talks Peace introduces children to the concept of interconnectedness of all beings through the eyes of a leaf called Harmony, who lives on the Bodhi Tree. Buddha sits under the tree and sees in Harmony, the Sun, the earth, stars, clouds, rain, time, space, mind and the whole universe. Spreading a much-needed message of unity and tolerance, the book aims to help children become more mindful and compassionate global citizens.
Priya is an advocate of peace education in schools and her books spread the messages of individual, social and ecological peace, emphasizing the importance of integrating the principles of compassion and harmony into child education.
—–
Priya Kumari was born and raised in the scenic foothills of the Himalayan Mountains. She inherited her love of reading and passion for the written word from her father, who owned a bookstore. The rich and detailed history of Indian culture and mythos is the source for her own books focusing on humane values of diversity and connection in the hopes of bringing future generations together. She is a certified public accountant who lives in New Jersey with her husband and two sons.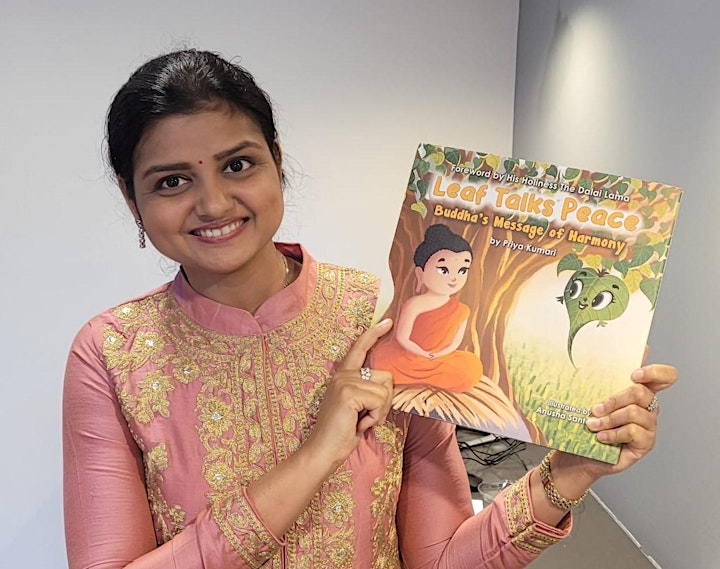 —–
We look forward to seeing you.
In accordance with our COVID-19 safety protocols, we are asking all in-person visitors to please observe the following:
WEAR A MASK: All visitors must wear masks or facial coverings.
TRACK YOUR SYMPTOMS & EXPOSURE: Do not visit if you have a fever or do not feel well.
WASH YOUR HANDS frequently with soap and water or use hand sanitizer.
OBSERVE SOCIAL DISTANCING whenever possible.
RESPECT OUR POLICIES to participate in keeping us all safe!
What you can expect from us:
We have a fully vaccinated staff and wear masks.
We have increased cleaning protocols and installed hand sanitizing stations for staff and visitors.
We stay home when we're feeling unwell.