Join us for a 5-week class series on the intersection of technology and Buddhism with Columbia professor David Kittay.
Feb. 10, 17, 24; Mar. 1 & 10 | 7:00–8:30pm ET | $15 per class (single session registration allowed) | Live-streamed via Zoom
This 5-week class series with Columbia University professor David Kittay will explore pertinent questions such as: does the singularity really exist, can cyborgs have ethics, and how do we practice wisdom within the simulation? Join us for stimulating sessions and discussions based on seminal articles and literature surrounding the subject.
Session 1 (2/10): Could the Singularity Really Exist?
Seminar Tips – Read:

Robot vacuum cleaner escapes from Cambridge Travelodge,

https://www.bbc.com/news/uk-england-cambridgeshire-60084347?fbclid=IwAR0NFU3W9ToMeh7VtPfgSndDO6OC8JKI0Ddp110CMH3GQEDL38l6J8U1BMo

;

Paulo Freire, Pedagogy of the Oppressed, 2 pages from Ch. 2; Erwin Schrödinger, "Science and Humanism" in Nature and the Greeks and Science and Humanism, 105-112
The Singularity – Watch: http://www.pbs.org/wnet/religionandethics/2011/12/09/august-20-2010-ray-kurzweil-extended-interview/6839/; Read: Ray Kurzweil, The Singularity Is Near, Ch. 1
Wisdom – Read: The Heart Sutra; Nagarjuna, The Fundamental Wisdom of the Middle Way, Ch. 24, 293-321; The Dharma Recitation Sutra, Chs. 9 and 10. For a beautiful and basic introduction to the Heart Sutra, emptiness, and dependent arising, Thich Nhat Hanh's short book, The Heart of Understanding.
---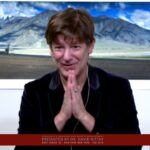 Prof. David Kittay teaches courses on Buddhism and technology at Columbia University, where his courses are called "life-changing." Dr. Kittay chairs the Executive Committee of Tibet House US and is President of the Tibetan Classics Translators Guild of New York. He also writes and lectures on the subject of compassionate lawyering, and has served as a trial and civil rights lawyer, federal bankruptcy trustee and a receiver for the Securities Exchange Commission. He is currently Director and Professor of Philosophy at the Harlem Clemente Course for the Humanities, teaching humanities to economically disadvantaged people in Harlem. His latest publication is the Vajra Rosary Tantra, published by Wisdom.